Heres an update on a story I blogged a few months ago about this clever Canary Islands hydro scheme- Richard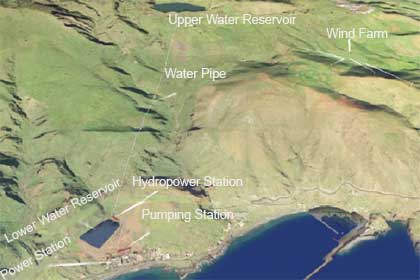 Spain's central government is processing a ministerial order exempting the Canary Islands' 11.5MW wind-hydro hybrid plant from the national renewables moratorium, developer Gorona de Viento told Windpower Monthly magazine.
The pioneering plant, aimed at covering 80% of the island of El Hierro's power needs, comprises five 2.3MW Enercon wind turbines that power the pumping of water over 1,000 metres above sea level.
Installation has been completed and the plant will be ready for full grid testing in one or two months, the developer confirmed. But final commissioning depends on approval of the ministerial order. "We cannot go forward without that," the company added.
Gorona de Viento and the government have declined to reveal details of the proposed ministerial order, co-drafted by regulator Comisión Nacional de Energía (CNE). But the Spanish press — claiming access to leaks — said it proposes a 20-year tariff of €236/MWh, to cover the €74 million cost.